17 Days Best of Africa Safari (South Africa, Tanzania, Kenya & Zanzibar)
17 Days Best of Africa Safari combines three prominent parks in East and South Africa plus Zanzibar, an ideal getaway for relaxing holidays. The parks include Kruger, Masai Mara and Serengeti National Park.
Itinerary 17 Days Best of Africa Safari
Day 1: Arrival – Transfer to Kruger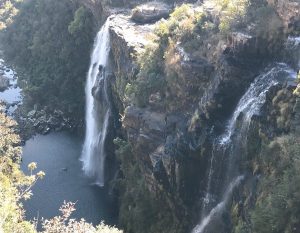 On arrival you meet our driver at the airport. Greet each other and after start the drive to Kruger National Park. The drive takes about 4 -5 hours.
Check in at the lodge and the next activity depends on the time you arrive there. If you reach the park in time an evening game drive is possible or relax at the lodge.
Day 2 & 3: Admire Kruger's Wildlife
You spend two day appreciating Kruger's wildlife and other natural scenery. You will do multiple game drive using safari vehicles with pop up roof.
This is meant to enable you take in breathtaking views of different wild animals in the park. Some of these are elephants, buffaloes, leopards, rhinos, lions, Zebras, giraffes, various antelopes and more.
Day 4: Kruger – Fly to Masai Mara
After having great moments in Kruger you transfer to Kenya's Masai Mara national reserve a must see destination for everyone who is in Africa mainly for wildlife.
Day 5 & 6: Explore Masai Mara
Spend two day enjoying Masai Mara's unending charms including inspirational views of wild animals, sunset/rise, stretching grasslands, and more.
You engage in various thrilling activities including game drives and nature walks. If you travel in the months for the great migration you will see thousands of wildebeests and other animals as they move from Serengeti to Masai Mara. The views of this great migration are inspirational.
Day 7: Masai Mara – Fly to Serengeti
Transfer to Tanzania's Serengeti national park by plane. This park is amongst the reasons for most trips to Tanzania. It impresses tourists with pretty wildlife and other notable allures.
Arrive early and check in at the lodge. You can choose to relax at the lodge or do an evening drive for awe-inspiring views.
Day 8: Game drive
Have morning breakfast. After check out for a full day game drive to see multiple wild animals in the park including the African big fives, antelopes, zebras, giraffes and a lot more. After return to the lodge for dinner and overnight stay.
Day 9: Hot Air Balloon Safari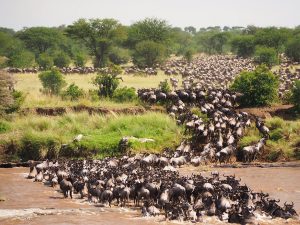 Next day you admire the beauty of the entire pack from the basket of a hot air balloon. This is one of the best experience not to miss in Serengeti National Park.
From the skies you see animals grazing, views of mountains and stretching grasslands. After you return to the lodge for relaxation and an overnight stay.
Day 10: Serengeti – Ngorongoro crater
Early in the morning you shift from Serengeti to Ngorongoro crater for more wildlife encounters. This place is home to thousands of wild animals and bird species. During some seasons herds of animals converge around for pasture and water.
Day 11: Game Drive
Have breakfast. After go in for another game drive to see more wild animals in this area. It is home to about 25000 wild animals including the African big fives and antelopes, unique bird species and more. After the morning drive, return to the lodge for lunch, relax and later do an evening drive.
Day 12: Nature walk & Ngorongoro crater  view
Next day you will do a nature walk along the crater's edge to get close to nature and also admire the beautiful views of the place.
Day 13: Ngorongoro crater– Arusha – Fly to Zanzibar
After the three nights in Ngorongoro crater you check out to start the drive to Arusha. This 180km journey requires 3 – 4 hours. From Arusha you take a flight to Zanzibar Island.
Day 14, 15, 16: Relax at the Beaches
This is the time to get relieved from all the hustles of Kruger, Serengeti, Ngoro Ngoro and Masai Mara national reserve.
Visit nearby villages, relax at the beaches and engage into various watersport activities such as scuba diving, snorkeling, kayaking, windsurfing and game fishing.
Day 17: Zanzibar – Return flight
After relaxation in the Islands you transfer to Zanzibar airport for your return flight.
End of 17 Days Best of Africa Safari