7 Days Ngorongoro, Serengeti & Bwindi (Wildlife Viewing & Gorilla Trekking)
7 Days Ngorongoro, Serengeti, Bwindi. Mountain Gorilla trekking expedition is a multi–border crossing safari package that will allow you to enjoy incredible wildlife sightings in Tanzania's premier National Parks with all of Africa's famous Big Five animals. 7 Days Ngorongoro, Serengeti & Bwindi, and Gorillas is however a unique safari that will grant you an opportunity to trek the mountain gorillas in Uganda, preferably Bwindi Impenetrable Forest National Park.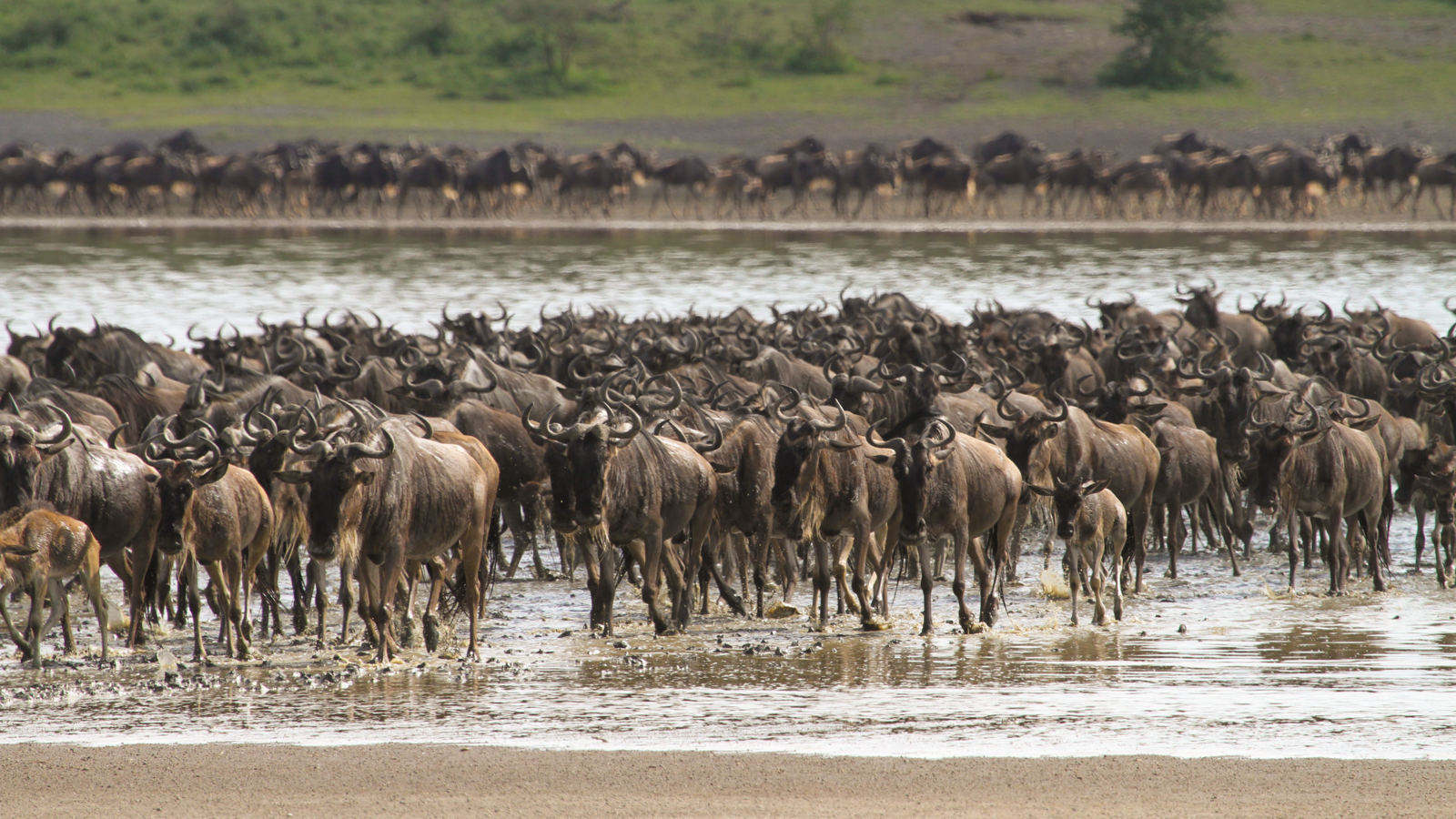 7 days Ngorongoro – Serengeti and Gorillas is the best solution for those who long for wildlife sighting in abundance, however with interest in trekking mountain gorillas. This safari package offers an all-around wildlife sighting adventure in the most celebrated wildlife-protected areas.
Quick Tour details – 7 Days Ngorongoro, Serengeti & Bwindi
Day #1: Arrival at Kilimanjaro International Airport in Arusha Town
Day #2: Transfer to Serengeti National Park
Day #3: All day Game drive in Serengeti National Park
Day #4: Transfer to Ngorongoro – all-day Game drive
Day #5: Fly to Entebbe International Airport and Transfer to Bwindi
Day #6: Gorilla Trekking in Bwindi
Day #7: Transfer Back to Entebbe International Airport/Departure
Day by day detailed Itinerary for 7 Days Ngorongoro, Serengeti & Bwindi
DAY 1: ARRIVE IN TANZANIA
You will be picked up at the Kilimanjaro International Airport upon your arrival and transferred to your hotel in Arusha town; you will meet your guide who will brief you on your upcoming safari. All the basic information about your safari will be given to you by your safari guide.
Hotel check-in starts at 12:00 pm
Meal Plan: Lunch & Dinner
DAY 2: TRANFER TO SERENGETI NATIONAL PARK
After breakfast, you will head towards the Serengeti National Park, via the beautiful high lying farmland of Karatu and the Ngorongoro Conservation Area. Leaving the highlands behind, we descend into the heart of wild Africa – the Serengeti National Park – with its endless plains, rolling into the distance as far as the eye can see. We head to the central park area, known as the Seronera area, one of the richest wildlife habitats in the park, featuring the Seronera River, which provides a valuable water source to this area and therefore attracts wildlife with all representatives of most of the Serengeti's species. We arrive in time for lunch and enjoy an afternoon game drive in the Serengeti National Park.
After your tour around the park, you will be transferred to your lodge where you will be spending the night.
Meal Plan: Breakfast, Lunch & Dinner Included
DAY 3: ALL DAY GAME DRIVE IN SERENGETI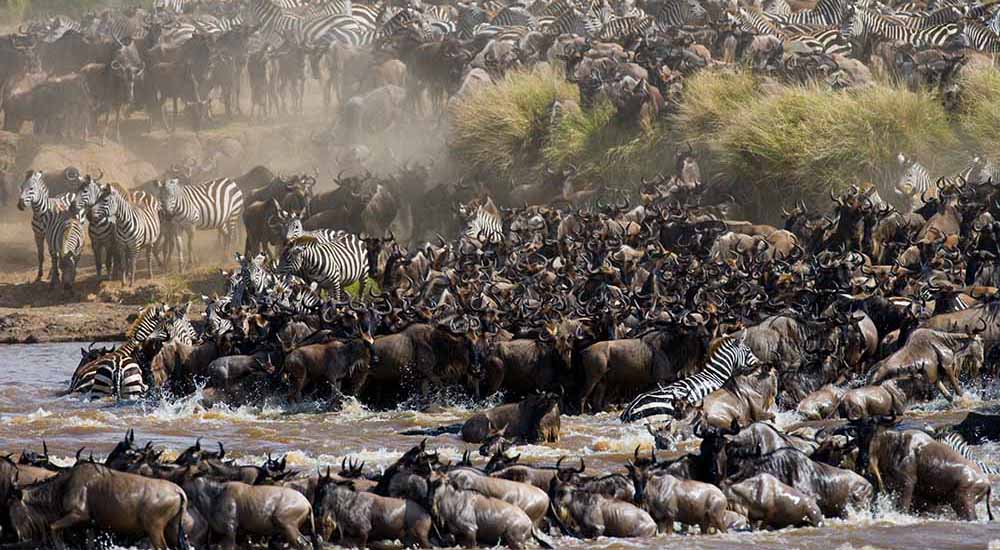 Following breakfast, you will spend the whole day on a game drive in the Serengeti National Park and have lunch at a picnic spot en route. Depending upon the time of year, you might even have the chance to witness the great migration with hundreds of thousands of wildebeests, zebras, and Thompson gazelles. During the small rainy season in October and November, you will typically see these herds moving from the Kenyan Masai Mara through the northwest of the Serengeti to the plains in the south. After the great rainy season in April, May, and June, the herds slowly travel back through the western and north-western parts of the Serengeti. With fluctuations in rainfall, this timetable can of course change, resulting in the animals migrating during different times and routes. Your guide will try his utmost to find the animals and will make sure that you can see them from the best spot in the national park. Naturally, the migration also attracts predators and with luck, you might see a kill in action. You will be transferred to your accommodation for dinner and an overnight stay.
Meal Plan: Breakfast, Lunch & Dinner Included
DAY 4: TRANSFER TO NGORONGORO –ALL-DAY GAME DRIVE
After breakfast at the lodge with lunch boxes depart the hotel have a short drive to crater descend road for a half-day game drive on the crater floor, you should expect to see a lot of wildlife very close from the vehicle, Zebras, Wildebeest, Jackals, Hyenas, Hippos, Lions are the animals to be seen though if you are lucky you will see the Black Rhino. The experience here is truly unbeatable with guaranteed incredible wildlife sightings. Dinner and an overnight stay as per stated accommodation.
Meal Plan: Breakfast, Lunch & Dinner Included
DAY 5: FLY TO ENTEBBE INTERNATIONAL AIRPORT AND TRANSFER TO BWINDI
Wake up very early in the morning and have breakfast. Depending on the time of your scheduled flight, your driver-guide will pick you up and drop you at the Arusha Airport for your flight to Uganda. Upon your arrival at Entebbe International Airport, you will meet your Uganda safari guide who will give you a warm welcome.
You will then embark on your journey to Bwindi impenetrable forest National Park in western Uganda. This long journey is an 8 hrs. drive from Kampala city, Uganda's capital. Upon your arrival to Bwindi, you will then check in your already booked accommodation where you will have your dinner and overnight as you prepare for the next day of your trip.
Meal Plan: Breakfast, lunch, and dinner included
DAY 6: GORILLA TREKKING AT BWINDI IMPENETRABLE FOREST NATIONAL PARK
In the early morning, have breakfast at the hotel before heading out for your gorilla trekking experience in Bwindi. With your gorilla trekking gear, you will meet your driver guide who will drive you to Ruhija Park headquarters for briefing and joining others before heading into the forest to your gorilla trek. This trek can last for between 30 minutes to 7 hours depending on the location of the mountain gorillas family on that particular day. Once the gorillas are located, you will be allowed to spend one hour with them while observing their behavior, taking photographs before you return to the park headquarters for your certificate of participation, evidence that you did the trekking. Transfer to your accommodation overnight.
Meal Plan: Breakfast, lunch, and dinner included
DAY 7: TRANSFER BACK TO KAMPALA R ENTEBBE FOR DEPARTURE
After early morning breakfast, your driver-guide will meet you and drive you back to Kampala or Entebbe any of your preferences.
Meal Plan: Breakfast and Lunch included