Lemala Wildwaters Lodge (Uganda Luxury Safari Lodge)
Located on roughly six hectares on Kalagala Island, Lemala Wildwaters Lodge lies on a unique private island mid-stream within the mighty River Nile in Uganda: around 25km downstream from Jinja in eastern Uganda. It's in a sublime location and only reached by boat which makes it a very adventurous place to stay. And, it's uniquely perched on granite rocks with noisy and exciting foamy rapids roaring all around.
The ten stand-alone elevated timber-floor and super-spacious luxury suites nestled in the rainforest with amazing river views. Each are linked by raised wooden walkways to the restaurant, bar and library, and feature glass-fronted windows, locally handmade furniture, stylish bathrooms with rain showers, and secluded wooden decks with daybeds and romantic free-standing open-air bathtubs.
There are also delicious and far above standard sunrise breakfasts and candle-lit three-course dinners and a lovely swimming pool carved out of natural pink granite rocks in the attractive main communal lodge area. The canvas walled and thatched cottages feature a private deck with free-standing bath. The units also offer hand-crafted furniture and the beds are draped with a mosquito net. Each unit has a safety deposit box and complimentary toiletries.
The restaurant and bar area can be reached via elevated, wooden walkways. Guests can indulge in a full English breakfast with a selection of cereals, fruits and juices. For lunch and dinner, the restaurant is an a-la carte menu.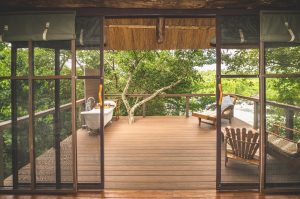 Activities on the river for guests in the nearby adventure hub of the Jinja area including heart-pounding white-water rafting or bungee jumping and gentler horse riding or fishing. Additionally, Lemala Wildwaters is a perfect platform for viewing some of the more than 1000 bird species that Uganda is so famous for – from turacos and cuckoos to hawks and eagles – and you might also spot giant otters and monitor lizards in the water.
It is fun for the whole family, but Lemala Wildwaters Lodge also offers a relaxing and intimate stay for honeymooners and couples looking for some quiet time – if of course the roar of the racing white-water rapids does not interfere. But, really these sounds on the mighty Nile are quite hypnotic and calming so Lemala Wildwaters offers an experience in all the senses.
Lemala Wildwaters Lodge review
The Lemala Wildwaters Lodge is composed of 10 villas that are suitable as doubles, twins or triplet and include 1 family room.
They also have En-suite bathroom with flush toilet and hot showers. The lodge operates on 24-hr electricity with a back-up generator. Wild water lodge has a large lounge and dining area that grants a great opportunity to view great River Nile as it flows.
There is complimentary internet in the lounge and bar to your convenience. The Lemala Wildwaters Lodge also offers free charging facilities for devices that you will find in each villa. Spa treatments with prior booking are also found in the lodge for you to relax.
Nearest airstrip is Jinja or the Island has a helicopter pad, accommodation on full board with drinks and extras payable. Get the best experience with world – class service at Lemala Wildwaters Lodge.