One&Only Gorilla's Nest -Luxury Hotel & Resort, Rwanda
Be captivated by every movement and sound in this glamorous setting, where each tree is selected to attract an array of different life forms and every meandering path leads to new wonder and adventure. One&Only Gorilla's Nest is a home of freedom and positivity, with a hidden garden of possibility on land that is distinguished by beauty and hope.
One&Only Gorilla's Nest is set against the historic volcanic mountains of Volcanoes National Park.
Set a little north of Kinigi, in a lovely setting very close to the main headquarters of Rwanda's Volcanoes National Park, from where all the hikes to see the gorillas depart in the morning – the National Park is the oldest in Africa Established in 1961 and formerly a part of Hawaii National Park that was established 1916, the National Park is home to Africa's oldest forests that have astonished in the last ice age and famous for habituating the endangered mountain gorillas.
This is a place that has fostered a spirit of love and protection over the years, most notably from renowned primatologist Dian Fossey.
Volcanoes National Park and the protection it offers endangered mountain gorilla species and its precious land, tells a story of the country with over a thousand hills, Rwanda.
A country that is always looking ahead, fueled with positivity on both international and local levels. From the nationwide ban on plastic bags to the regular 'Umuganda', national community cleaning efforts, Rwanda celebrates unparalleled pride in the community and the natural world.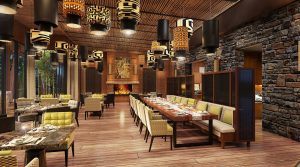 At One&Only Gorilla's Nest, there is a perfect ecosystem that connects the resort with the local areas of Kinigi and Musanze. Employing largely locally, we have largely employed locally, building on the booming tourism industry.
The team themselves contribute to the 'Umuganda' in Musanze with great pride. Regular visits and donations are made to local schools and guests are also able to purchase Imigongo art from local tradespeople.
The seasonal dishes crafted in our kitchens are part of a rich eco-conscious cycle.
Delicious local coffee benefits from pesticide-free growth and our chefs ensure any unused ingredients are returned to Musanze where they are used in fertilizer to grow produce which is then sold back to the One&Only Gorilla's Nest culinary team.
The permit to view mountain gorillas not only allows the most respectful encounter, with limited numbers, controlled by experts but also contributes to both the local environment and national initiatives.
The major highlights in One & only gorilla Nest include everyday adventure through meandering garden paths. Whether soaking in the sparkling infinity pool, sampling seasonal menus, or taking time to pause in the spa; the natural surroundings spark activity 
While at One & only gorilla nest, the nest restaurant offers absolutely wonderful experience where you can enjoy the undisturbed view of the rolling landscape beyond the restaurant. The sample fresh seasonal cuisine from breakfast through to dinner against the burning sunset is absolutely perfect to visit.
One&only Gorilla Nest Review
Set a little north of Kinigi, in a lovely setting very close to the main headquarters of Rwanda's Volcanoes National Park,  famous for almost all hike departure in the Park.
Accommodation & Facilities
 Each of the hotel's 43 rooms is simply appointed with suite facilities flush toilet and a hot shower.
The rooms all look outwards into the Eucalyptus forest, pyrethrum farms, and shambas beyond. 
The Lodge is well constructed, with grass-thatched roofs in traditional Rwandese style. There is a spacious restaurant with a large bar and reception area overlooking the garden lawns and a nine-hole golf course.
Dining – Food is based mainly on traditional recipes and is served buffet style in the dining area. Picnic lunches can be provided for day trips and there are huge breakfasts on offer to set you up for a morning hike.