Serengeti Bushtops Camp – Luxury Safaris Tanzania
Serengeti Bushtops Camp –  A relaxing and adventurous retreat within the extraordinary Serengeti plains. Experience Africa at its finest through safari, learning new skills all under the alluring African sky. Witness the Great Migration where animals fight against the Mara River for greener pastures. Relax and be pampered by the treats that Serengeti Bushtops has for you before waking up for your next adventure. 
Serengeti Bushtops is nestled on rolling hills that contrast with the open acacia wood and grasslands that cover one of nature's most spectacular landscapes. Serengeti Bushtops is a Tanzanian haven, an oasis of luxury for safari seekers.
Gaze out over the most amazing scenery as you watch the sunset from the comfort of your private hot tub. With the Serengeti plains stretching out over a vast ecosystem, you will witness a life that is raw, thrilling, and captivating. Enjoy the fabulous cooking and delicious wines after witnessing the thrill of the annual migration across the Mara River. Be pampered by your personal butler and the friendly staff as you enjoy a combination of safari adventures, first-class facilities, and relaxation.
With a ringside seat at nature, enjoy vast herds of wildebeest, zebras, gazelles, and the silent presence of crocodiles. Lying in the path of the annual wildebeest migration, Serengeti Bushtops is also a place full of abundant wildlife viewing all year round.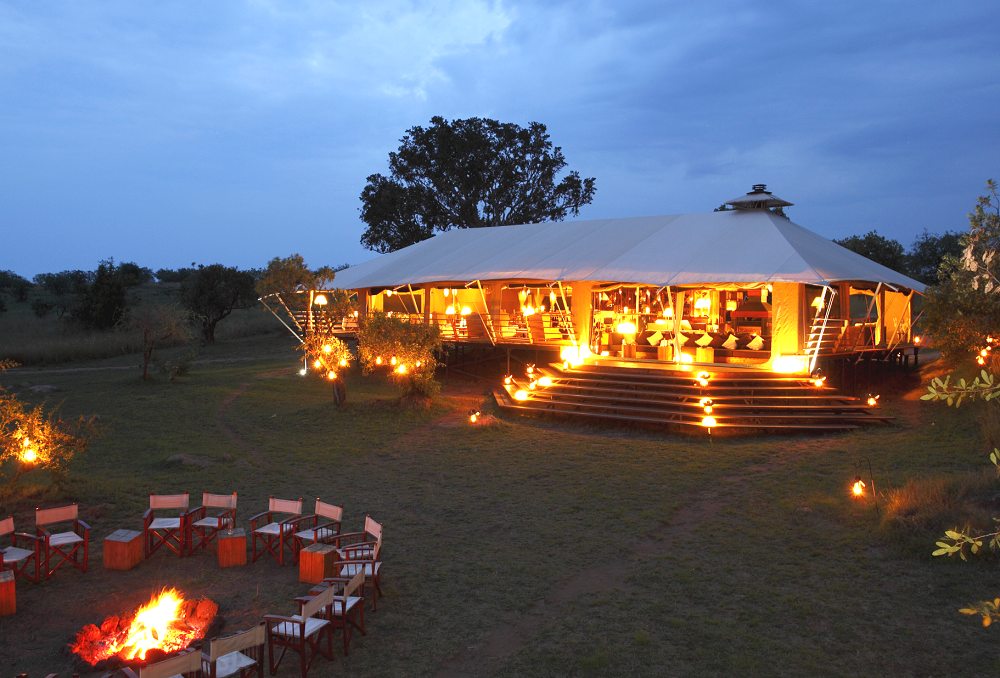 Out of season, travel all day without seeing another vehicle, feeling as though you have the whole of the Serengeti to yourself. 
Designed to blend into its surroundings, the entire camp is under canvas with private pathways from shared spaces that lead to luxury tents that provide your own secluded haven of privacy and beauty.
With twelve spacious and uniquely designed tents, they provide comfort for all. The privacy of your tent is complemented by the spaces that you can share with fellow guests to relax.
Within the heart of the camp is the reception with a shop and the open-sided mess tent with a lounge. Enjoy all the joys of the bar, library, and wine wall as you see nature at its finest.
Savour each bite of your meal as you share stories of your safari adventures with fellow guests. Wind down, read, chat, snooze or settle yourself by the cool outdoor pool with views across the Serengeti landscape. 
Tents Review – the 12 luxurious rooms under canvas are named after the animals that surround them. Each is encircled by vast private decks, creating a hundred and twenty square meters within which to sink into a deck lounger, soak in your private hot tub or gaze out at passing wildlife.
This is your personal kingdom, ideally suited to restful sleep, taking an open-air shower beneath the warm African sun, or unwinding as you await drinks from your private butler. Each tent sleeps two, but an extra single bed can be added for a third adult. 
The amenities in Bushtop tented camp include; Huge wooden deck with hot tub, Bushtops signature bedding, Sunken lounge, 24-hour butler service, power, and WiFi, and will here, you can also access Panoramic views of the vast plains of the premier Serengeti National Park.