11 Day Kilimanjaro Trekking, Climbing Kilimanjaro via Machame Route
11 Day Kilimanjaro Trekking, Climbing Machame Route Kilimanjaro. For Kilimanjaro Climbing adventure lovers, this 11 Day Kilimanjaro Climb, Trekking for you on a Tanzania Safari. It grants you magical opportunities to hike up to the top of the highest mountain in Africa via the Machame route. This is an expedition like no other.
Itinerary 11 Day Kilimanjaro Trekking
Day 1: Arrival – Pick up
On arrival you will be picked by our driver and transfer up to your hotel of residence.
Day 2: Drive to Machame campsite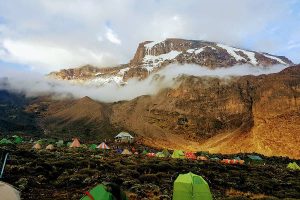 Have morning breakfast and after start the two hours' drive to Machame gate. You start with a briefing and later hike to Machame campsite. It takes about seven hours for this jaw dropping hike. Dinner and Overnight at this camp.
Day 3: Continue to Shira campsite
Have breakfast in the morning and then continue with the hike across the valley not until you reach the moorland of Shira plateau. This trek takes about seven hours up to Shira campsite. Dinner and Overnight at Shira campsite.
Day 4: Acclimatization day
On this day you have two possible short excursions after breakfast. You either take the one that leads to the Shira cathedral or the one which leads you the Shira cone. After have lunch and a free evening of relaxation. Dinner and overnight at Shira campsite.
Day 5: Continue to the lava tower
After morning breakfast, you will climb for around seven hours up to the lava tower, then descend to Barranco camp for an overnight. From this camp, you will take in the beautiful views of the Barranco wall.
Day 6: From Barranco to Barafu camp
Enjoy your breakfast and later climb for one and half hour up the Barranco wall. Continue with the hike through the Karanga valley. Dinner and night stay at Barafu camp.
Day 7: Buffalo Camp to Third Cave
As we head up Buffalo Ridge, the terrain is increasingly sparse. This route is rarely travelled and allows you to enjoy its mountain wilderness feel. Trek through remote valleys on to the northern slopes of Kilimanjaro until you arrive at Third Cave.
Day 8: Third Cave to School Hut
We climb up and over the saddle which sits between Kibo and Mawenzi. Continue on to the School Hut camp. Once here you rest, enjoy an early dinner to prepare for the summit day.
Day 9: Continue to Uhuru peak
The journey continues in the midnight such that you reach the summit early for awe inspiring views of Sunrise. It takes six hours up to the Stella point and 1.5 hours along the southern rim to reach Uhuru peak. After take a seven hours descend to Mweka camp for dinner and night stay.
Day 10: Hike to Mweka gate
Have morning breakfast and after start the three hours trek to Mweka gate. From this location you will be transferred back to your hotel in Moshi.
Day 11: Departure
Drop off at the airport for return flight.
End of 11 Day Kilimanjaro Trekking, Climb Kilimanjaro via Machame Route