7 Days Shira Route Safari Kilimanjaro Trekking Itinerary
A well-planned 7 Days Shira Route Safari is a classical hiking safari to Mountain Kilimanjaro in Tanzania, the highest mountain in Africa. Be delighted to touch the roof of Africa on our 7 days Shira route Safari – hike. The Shira Plateau is one of the most scenic and most fascinating areas of Kilimanjaro and offers magnificent views of Mt. Meru and the Great Rift Valley. Shira route is best designed for hikers who are already acclimatized to 4000m. Depending on weather conditions, you can drive by 4×4 or walk for 1/2 hours to Shira Hut (4000m). Game is often sighted and the scenery changes from the forest, grassland, heath to moorland. The fast ascends by vehicle to about 4000m will require additional acclimatization, after which it will be possible to ascend Uhuru Peak either via the Western Breach or via Barafu hut.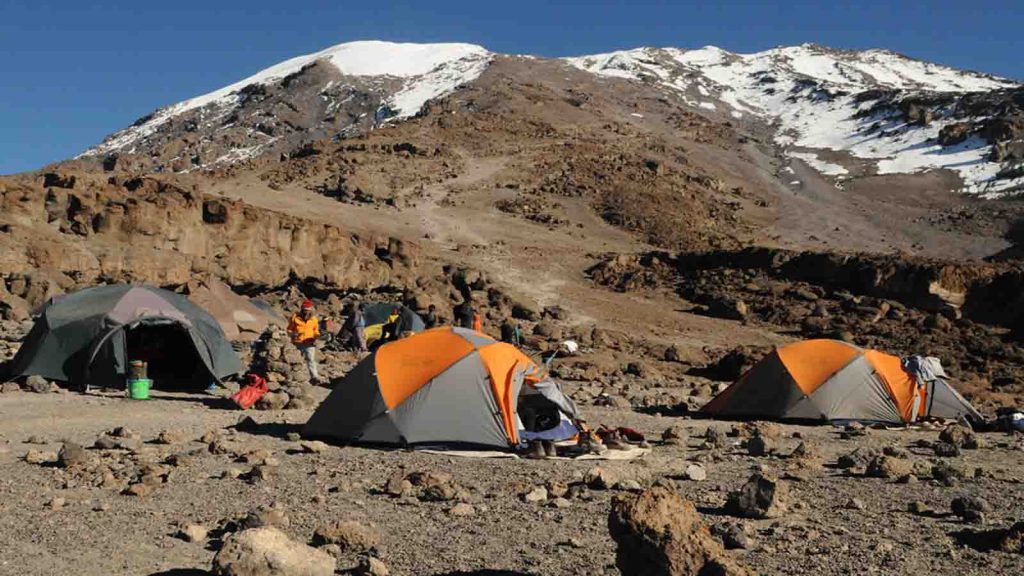 Quick tour details
Duration: 7 days
Number of People: Tailored
Starts/Ends: Arusha
Availability: All year round
PLACES TO VISIT: MOUNT KILIMANJARO
Tour Overview – 7 Days Shira Route Safari
Day 01:  Airport pick-up- Drop off at Hotel
Day 02:  Lodge – Shira Two Camp
Day 03:  Shira Two Camp – Lava Tower – Barranco Camp
Day 04:  Barranco Camp to Karanga Camp
Day 05:  Karanga Camp to Barafu Camp
Day 06:  Barafu Camp to Summit to Mweka Hut
Day 07:  Mweka Camp to Arusha
Day by day detailed itinerary for 7 days Shira route hike safari
DAY 01: ARRIVAL AND PICK-UP
Upon our arrival to Tanzania, you will be picked up by a professional guide from Kilimanjaro International Airport (JRO) and driven to your accommodation in Arusha. Participants will be given a short briefing for the climb the next day. Kits and the necessary equipment will be checked as well.
Meal Plan: Dinner
DAY 02: SHIRA TOWN CAMP
After breakfast, we start a long drive to Lemosho Gate where you will complete the necessary registration. Afterward, we continue our travel up the Shira Plateau to the trailhead. You will have a short hike through the rainforest to Shira Two Camp where your tent will be pitched. The hike will last for 1 hour on a distance approximating 3km in a rain forest.
Meal plan: Breakfast, Lunch, and Dinner
DAY 03: SHIRA TOWN CAMP – LAVA TOWER – BARRANCO CAMP
Today you will continue your hike up to Lava Tower and later to Barranco camp. From Shira Camp, the route turns east towards Kibo and you will find yourself hiking through semi-desert up to the fairly rocky conditions that surround Lava Tower at 4,600 meters (15,100 ft). After lunch, we descend approximately 650 meters to Barranco Camp. Along the way, you will have good views overlooking Western Breach and Breach Wall. Tonight's camp is located in a valley just below the Breach and gives an impressive view of the Great Barranco Wall. This journey is approximately 15 km, a hike that lasts for at least 7 hours on a semi-desert and rocky terrain.
Meal Plan: Breakfast, Lunch, and Dinner
DAY 04: BARRANCO CAMP – KARANGA CAMP
From Barranco to Karanga is a short distance of about 5km which is meant for acclimatization. We take on a route that heads down through the Karanga Valley over intervening ridges and valleys and then joins up with the Mweka route. We turn left up the ridge and after another hour or so, we would have reached Barafu Hut.
The last water stop on the route is the Karranga Valley, as there is no water available at Barafu camp. Barafu is the Swahili word for "ice" and it is a bleak and inhospitable camping area to spend the night. Totally exposed to the ever-present gales, the tents are pitched on a narrow, stony, and dangerous ridge. Make sure that you familiarise yourself with the terrain before dark to avoid any accidents.
Meal Plan: Breakfast, Lunch, and Dinner
DAY 05: KARANGA CAMP – BARAFU CAMP
Early in the morning after breakfast, we leave Karanga and hit the junction which connects with the Mweka Trail. We continue up to the Barafu Hut. At this point, you have completed the South Circuit, which offers views of the summit from many different angles. Here we make camp, rest, enjoy dinner, and prepare for the summit day. The two peaks of Mawenzi and Kibo are to be seen from this position. The hike will last for about 4 – 5 hours on a 4 km distance in an alpine desert
Meal Plan: Breakfast, Lunch, and Dinner
DAY 06: BARAFU CAMP – SUMMIT – MWEKA HUT
At 2 am, we start our way to the summit between the Rebmann and Ratzel glaciers. We head in the northwest and ascend through heavy scree towards Stella Point on the crater rim. This is the most mentally and physically challenging portion of the trek.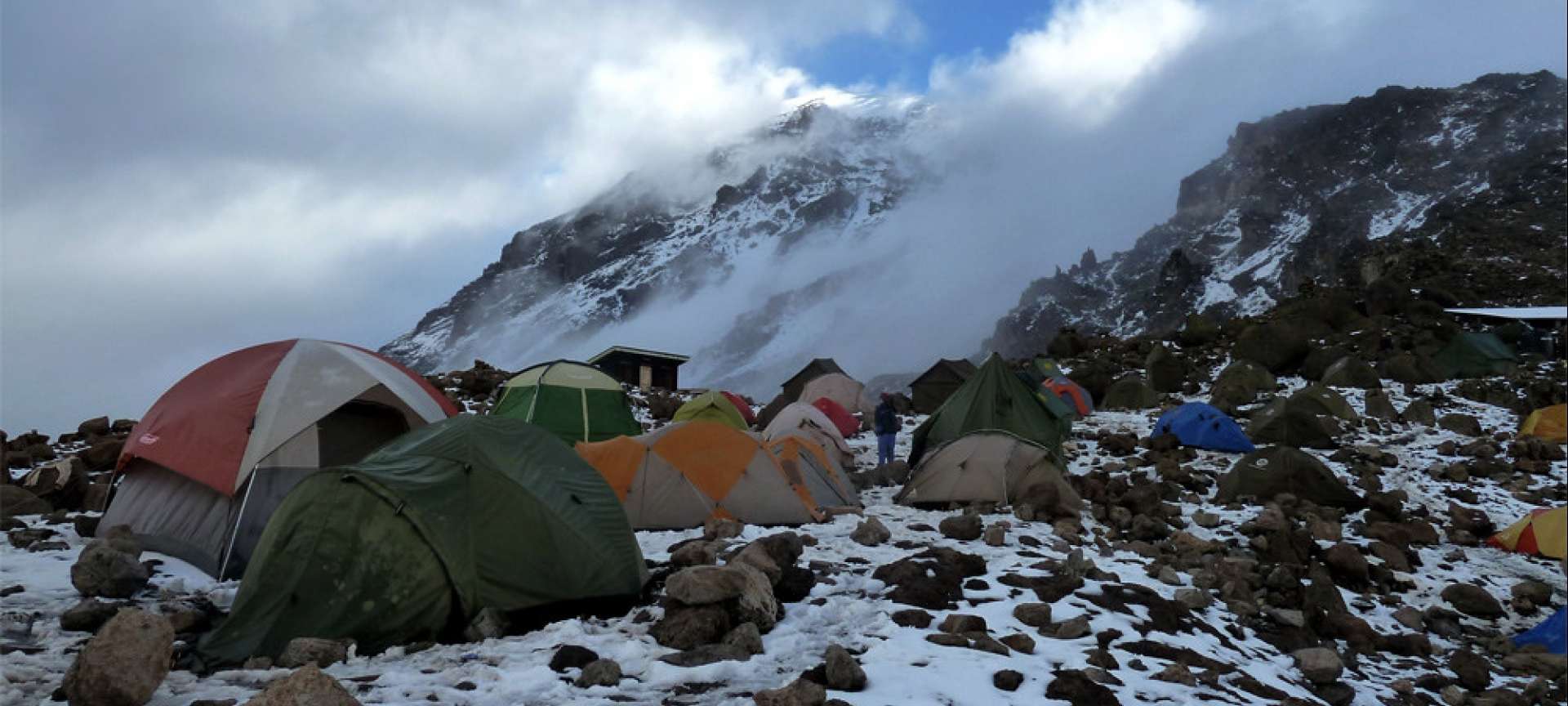 At Stella Point (18,600 ft), you will stop for a short rest and will be rewarded with the most magnificent sunrise (weather permitting). From Stella Point, you may encounter snow all the way on your 1-hour ascent to the summit. At Uhuru Peak, you have reached the highest point of Mount Kilimanjaro. Faster hikers will see the sunrise from the summit.
From the summit, we now make our descent continuing straight down to the Mweka Hut camp site, stopping at Barafu for lunch. You will want gaiters and trekking poles for the loose gravel going down. Mweka Camp is situated in the upper forest and mist or rain can be expected in the late afternoon. Later in the evening, we enjoy our last dinner on the mountain and have a well-earned sleep.
Meal Plan: Breakfast, Lunch, and Dinner
DAY 07: MWEKA CAMP – ARUSHA
After breakfast, we continue the descent down to Mweka Park Gate to receive your summit certificates. At lower elevations, it can be wet and muddy. Gaiters and trekking poles will help. From the gate, we continue another hour to Mweka Village where our vehicle awaits to drive us back to the Hotel in Arusha.
Meal Plan: Breakfast, Lunch, and Dinner
End of 7 Days Shira Route Safari
Safari includes
All activities (unless labeled as optional)
 All accommodation as stated in the itinerary
 A professional driver/guide
 All transportation (unless labeled as optional)
 Round-trip airport transfer
 All Meals (as specified in the day-by-day section)
 Drinking water on all days
 Camping Equipment
Safari excludes
The government imposed an increase in taxes and/or park fees
 Alcohol drinks
 Rescue Fee
 Climbing Gear
 Sleeping Bag
International flights
 Additional accommodation before and at the end of the tour