Lemala Nanyukie Tented Camp – Luxury Safaris Tanzania
Enjoy the wonders that Africa offers as you take a magical trip to the Serengeti. Watch as the wildebeest cross the endless plains, or the big cats sunbathe near an ancient acacia tree whilst never leaving comfort behind in your luxury tented suite. Have adventure, relaxation, and beauty at your fingertips, and explore the joys that Lemala Nanyukie Lodge offers. 
Lemala Nanyukie Location and Review
Meaning 'endless plains' in the Maasai language, the Serengeti is undoubtedly one of the world's most celebrated wilderness areas. Lemala Nanyukie is located a 45-minute drive east of the Seronera Airstrip in the park's central region, and is superbly located with outstanding views across these fascinating 'endless plains'. The camp itself sits on a grassy savanna dotted with rocky kopjes and shaded by ancient giant acacia trees.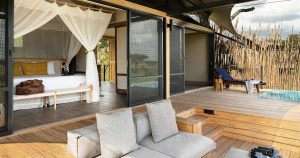 Lemala Nanyukie is located just outside of the Seronera circuit allowing for some private game viewing but in reach of the world-famous Seronera area famous for its large concentration of cats and resident wildlife due to its abundance of water in the many rivers.
Additionally, between April and June, and again between November and January, this area is crossed by the annual wildebeest migration, which always provides a thrilling wildlife spectacle.
With canvas walls, cathedral-like tented ceilings, and broad hardwood decks, guests at Lemala Nanyukie can expect a light contemporary décor in a palette of dazzling whites and neutral colors, with warmth introduced by textured accessories, luxurious upholstery, wooden furnishings, and well-executed lighting. Wow-what a beautiful place to be!!
The main double-volume area will feature a comfortable lounge and bar, an outdoor viewing deck leading to a refreshing swimming pool, and indoor and outdoor dining areas. Additionally while at Lemala, you can order to arrange special meals like bush breakfasts and lantern-lit dinners, and the campfire is perfect for a post-dinner drink and share tales about the day on safari. A separate spa tent among the trees offers secluded relaxation.
The 15 luxurious guest tents are spaced well apart for maximum privacy—five have extra day beds so triples can be accommodated, and the two-bedroom one is perfect for families or friends. Features include an oversized bed, spacious lounge, and generous bathroom with double vanity, shower, and free-standing bathtub.
The delightful wooden deck has sunken seating, an outdoor shower, and a stunning corner plunge pool with views directly across the Serengeti's magnificent grasslands. 
What is special about Lemala Nanyukie?
Lemala Nanyukie is indulged in the Serengeti National Park, an area that is crossed by the thrilling wildlife spectacle of the annual wildebeest migration, but also has high-density game-viewing at all times and is well-known for its large concentration of cats. While here, spotting wildlife is so easy in just a blink of an eye.
At Lemala Nanyukie Tented camp, you can opt for a balloon safari that offers an opportunity to see the vast Serengeti from a unique perspective.
Drink in the wilderness below as you silently float over the vast plains… before touching down for a bush breakfast like no other. If you only take one balloon flight in your life, this is the place to do it.
Sundowners are more than just a happy hour, they are a much-cherished African tradition and form an integral part of your safari experience. The experience in Lemala Nanyukie is second to none.