11 Days Kenya Tanzania Safari, Luxury Flying Safari Tour
11 Days Kenya Tanzania Safari combines Kenya and Tanzania for Wildlife encounters. 11 Days Kenya Tanzania Luxury Flying Safari  takes you to Masai Mara, Lake Naivasha and Amboseli National Park, Serengeti and Ngorongoro crater.
Within these parks you will see wildlife and enjoy the scenic views of the towering Mount Kilimanjaro. You will be picked by our driver from the airport and transfer up to your hotel in Nairobi.
Itinerary: 11 Days Kenya Tanzania Safari, Luxury Flying Safari Tour
Day 1: Nairobi – Amboseli National Park
11 Days Kenya Tanzania Safari begins with a pick up for the hotel and transfer to Amboseli National Park. After check in and lunch at the lodge, you will have an evening game drive for the awe inspiring views of the Wilderness, wild animals and towering hills.
Day 2: Amboseli – Naivasha National Park
You will have a morning game drive before you start a ride to Naivasha. Lunch is provided en route. Once you get there, an evening boat ride along Lake Naivasha awaits. Dinner and night stay at the lodge.
Day 3: Lake Naivasha – Maasai Mara
From Lake Naivasha, the journey continues to Masai Mara Game reserve, a magnet for wildlife lovers. Dinner and overnight at the lodge.
Day 4: Full day in Maasai Mara.
This fully day rewards tourists with spectacular views of abundant Wildlife species including Wild animals like lions, leopards, heart beasts, elephants, lions and more.
Day 5: Second day in Maasai Mara
After a morning breakfast, you start another game drive to other parts of the reserve to see more rare species that call this place home. You engage in other activities like picnic lunch, nature walks and more.
Day 6: Masai Mara – Cross to Serengeti
Early in the morning check out and start the drive up to Isebania border. The drive offers unending awe-inspiring views of animals, grasslands as you exit the reserve via the Olololo gate in Mara west. After crossing the border you will drive to your place of residence in Serengeti. If not road means you can shift from Mara to Serengeti by plane. Later check in at the lodge and relax.
Day 7: Full day in Serengeti
The next day inspires with incredible Wildlife encounters. You spend most of the time for this day game driving to see numerous wild animals like the African big fives, zebras, giraffes, antelopes, wildebeest and a lot more. It includes picnic lunch. After your day in the wilderness you return to lodge to unwind.
Day 8: Hot Air balloon ride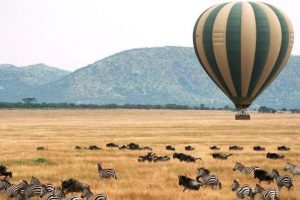 You admire the beauty of the entire pack from the basket of a hot air balloon. This is one of the best experience not to miss in Serengeti National Park. From the skies you see animals grazing, views of mountains and stretching grasslands.
Day 9: Serengeti – Ngorongoro crater
Early in the morning you shift from Serengeti to Ngorongoro crater for more wildlife encounters. This place is home to thousands of wild animals and bird species. During some seasons herds of animals converge around for pasture and water.
Day 10: Game viewing
A day spent in Ngorongoro crater is worth it. This place is seasonally home to about 25000 wild animals including the African big fives and antelopes, unique bird species. The drive around exposes you to plenty of appealing allures.
Day 11: Ngorongoro crater – Drive to Arusha – Return flight
After Ngorongoro crater you check out and drive up to Arusha for your return flight. This 180km journey requires 3 – 4 hours. End of Safari.
End of 11 Days Kenya Tanzania Safari