10 Days Serengeti Wildebeest Migration Safari Fly in Drive Out
10 days Serengeti wildebeest Migration safari fly dive is a classical adventure to one of the most celebrated wildlife conservancies in Africa particularly in the wildlife extravaganza. Tanzania host the second largest terrestrial mammal migration, The Great Wildebeest Migration which is one of the 7 natural wonders in Africa and one of the 10 natural wonders in the world at large. The wildebeest migration climax is during the River crossing where mammal grazers try to cross the crocodile-infested river, lying underwater in a long wait to catch their prey. The wildebeest migration river crossing in August moves north, passing through the Lobo area (north of Central Serengeti National Park) and the Wagakuria area (remote northern Serengeti National Park along the Mara River) en-route to Kenya's Masai Mara Game Reserve.
Duration: 10 days
Number of People: Tailored
Starts/Ends: Arusha
Availability: All year round
PLACES TO VISIT: Serengeti, Ngorongoro Crater, Tarangire
Tour Overview – 10 Days Serengeti Wildebeest Migration Safari
Day 01:  Arrival
Day 02:  Serengeti National Park (North)
Day 03 & 04:  Serengeti North (Kogatende)
Day 05, 06 &07:  Serengeti Central (Central Seronera)
Day 08:  Ngorongoro Crater Tour
Day 09:  Tarangire National Park
Day 10:  Back to Arusha
Detailed Day by Day Itinerary – 10 Days Serengeti Wildebeest Migration Safari
DAY 01: ARRIVAL
Upon your arrival at Kilimanjaro International Airport, your guide will meet you and facilitate transfer to your hotel.
Meal Plan: Dinner
DAY 02: SERENGETI NATIONAL PARK
After breakfast, transfer to Arusha airstrip for your flight to Serengeti North which will depart around 7 am and arrive at 10 am for a game drive in Northern Mara. Serengeti, among other incredible wildlife and stunning views, is famed for the annual migration of over 1.5 million wildebeest and hundred thousands of zebras, a frenzied bout of territorial conquests and mating happening from July-October. Witness an actual survival of the fittest as these animals plunge through crocodile-infested waters. The wildebeest produces more than 8,000 calves daily before the 1,000 km (600 miles) pilgrimage begins again.
Meal Plan: All meals included
DAY 03 & 04: SERENGETI NORTH (Kogatende)
After early morning breakfast, you depart for Serengeti North for a game drive viewing the great migration. River crossings at Kogatende start in August as the mega herd settles into the area. Between August- October, game viewing is at its best with river crossings pretty much guaranteed every day. There is no distinct movement as the herds tend to cross back and forth over the river, following the rains and subsequent fresh grasses.
Meal Plan: All meals included
DAY 05, 06 & 07: SERENGETI CENTRAL (Central Seronera)
After breakfast at the camp, we drive to Serengeti central, Tanzania's oldest and most popular national park and a world heritage site where you will spend more two days of your safari. The Serengeti is famed for its annual migration, when some six million hooves pound the open plains, as more than 200,000 zebra and 300,000 Thomson's gazelle join the wildebeest's trek for fresh grazing. Yet even when the migration is quiet, the Serengeti offers an amazing game-viewing in Africa: great herds of buffalo, smaller groups of elephant and giraffe, and thousands of eland, topi, kongoni, impala, and Grant's gazelle.
Meal Plan: All meals included
DAY 08: NGORONGORO CRATER TOUR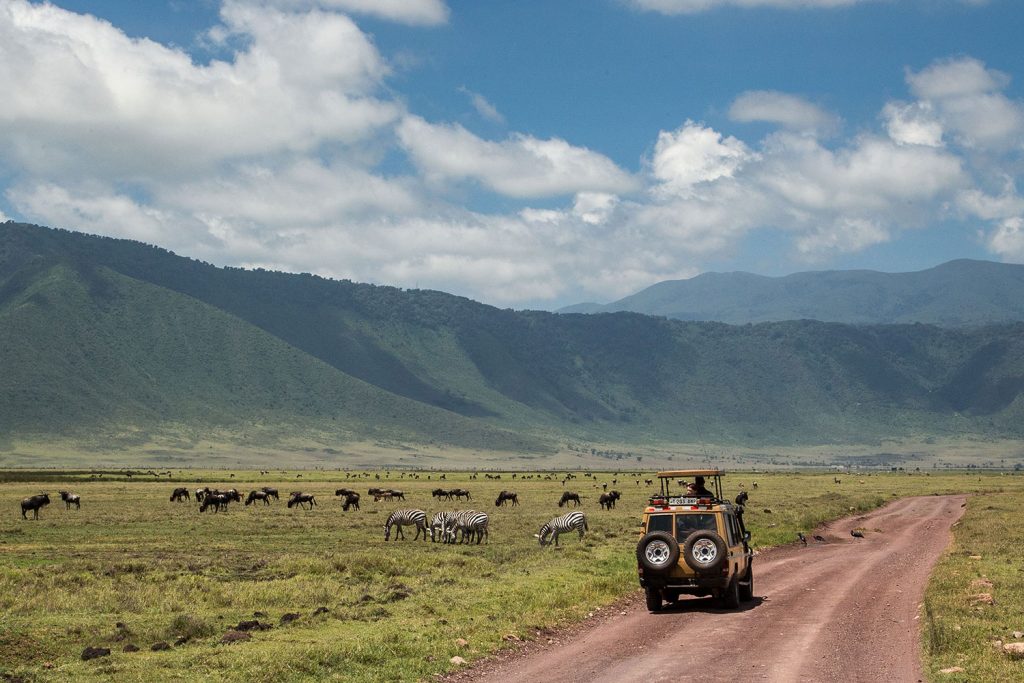 After breakfast, we will have an early morning game drive to Ngorongoro inside the Crater. The Ngorongoro Conservation Area (NCA) is an extensive highland area along the eastern arm of the Rift Valley, with the world-renowned Ngorongoro Crater as its focal point. Ngorongoro was established to conserve wildlife and other natural resources. It also safeguards the interests of indigenous people and promotes tourism.
Meal Plan: All meals included
DAY O9: TARANGIRE NATIONAL PARK
Today, we will proceed to Tarangire for a full-day game drive in the park located slightly off the main safari route. Tarangire National Park is a lovely quiet park in Northern Tanzania most famous for its elephant migration and birding safari with a quiet atmosphere.
Meal Plan: All meals included
DAY 10: BACK TO ARUSHA
Following breakfast, you will head back to Arusha and pass by a shopping market on the way. After which, we will facilitate your transfer to Kilimanjaro International Airport for your onward flight.
Safar Includes
Park fees
 All activities (unless labeled as optional)
 All accommodation as stated in the itinerary
 A professional driver/guide
 All transportation (unless labeled as optional)
 All Taxes/VAT
 Round-trip airport transfer
 All Meals (as specified in the day-by-day section)
 Drinking water on all days
 Safari Excludes
 International flights (from/to home)
 Additional accommodation before and at the end of the tour
 Tips
 Personal items
 The government imposed an increase in taxes and/or park fees
 Alcohol drinks