Volcanoes National Park Rwanda
Volcanoes National Park is a national park in northwestern Rwanda. The Volcanoes National Park is perhaps knows as the home of the rare primate species, the mountain gorillas.
Volcanoes National Park Rwanda stretches on a total land area of 160 square kilometers that spans on the large rainforest that encompasses five of the eight volcanoes in the Virunga Mountains.  Volcanoes National Park harbors the Karisimbi, Bisoke, Muhabura, Gahinga and Sabyinyo. Volcanoes National Park is part of the large Virunga ecosystem that stretches in three countries of Uganda, Rwanda and the Democratic Republic of Congo.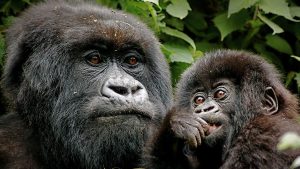 The Volcanoes National Park is bordered by Virunga National Park in Democratic Republic of Congo and Mgahinga Gorilla National Park in the Uganda.
The park was first gazetted in 1925, as a small area bounded by Karisimbi, Bisoke and Mikeno, intended to protect the gorillas from poachers. Volcanoes National Park is one of the oldest parks in Africa and perhaps the first to be created in Africa in 1929.
Volcanoes National Park in the early 1960s became a base for the American naturalist, Dian Fossey where she carried out her research on gorillas. Dian Fossey arrived in Rwanda in 1967, and set up Karisoke Research Centre between Karisimbi and Visoke. From then on she spent most of her time in the park, and is widely credited with saving the gorillas from extinction by bringing their plight to the attention of the international community.
The vegetation in the park varies considerably due to the large altitudinal range within the park, with the lower montane that has been lost to agriculture. The park comprises of the Neoboutonia forest, bamboo, Hagenia Hypericium forest and the grasslands.
Despite the Mountain Gorillas, the other mammals include: golden monkey (Cercopithecus mitis kandti), black-fronted duiker (Cephalophus niger), buffalo (Syncerus caffer), spotted hyena (Crocuta crocuta) and bushbuck (Tragelaphus scriptus). There also some elephants in the park however they are rarely spotted.
Things to do at Volcanoes National Park
Gorilla Trekking – Volcanoes National Park is a home to the most endangered mountain gorillas with about 18 gorilla families found here. 12 of the 18 gorilla families are open for trekking and the other 6 are reserved for research purposes.
Gorilla trekking is a major highlight of the park and allows visitors to move into the forest in search of the habituated gorilla families and usually when they are found, visitors are allowed to spend one hour with them watching them in their natural habitat. Here you can have a great opportunity to learn more about the mountain gorillas and their behavior in their natural habitat.
Gorilla trekking in Volcanoes National Park usually takes between 2 to 4 hours depending on the direction and how far they might have moved in search for their food.
Golden Monkey trekking – Volcanoes National Park is also famous for habituating the Golden monkeys. Trekking golden monkeys is the second best activity in the park. Two Golden monkey families live the National Park that are available for trekking on daily basis. The trekking usually takes 1 to 4 hours depending on the direction and how far the might have moved.
Volcanic Climbing – the Virunga Mountains that span in three countries, 5 of them are found in Rwanda. Hiking is thus guaranteed in the country on the mountains such as Karisimbi, Bisoke, Muhavura Mgahinga and Sabinyo.
Community tour – community tour in Rwanda is such a wonderful experience that any traveller shouldn't miss. Rwanda's local people are welcoming and their culture is really amazing. On your tour you will visit the iwacu cultural village where you can learn more about the local people's lifestyle, way of living, visit the kings house and enjoy their traditional dances like the Entore dance.
Frequently Asked Questions about Volcanoes National Park
Where is Volcanoes Park Found?
Volcanoes National Park is situated on the North Western Part of Rwanda. It is in Musanze previously known as Ruhengiri. This place is around two and half hours distance by bus from Kigali, 4 minutes  by Akagera aviation
What's is the best time to go Gorilla trekking?
Though the best time to visit the park is between July to September, the peak season. That's the dry season, but one would prefer to visit during end of December or any other time since gorilla trekking is an all year around experience , the low season from December to mid-March. The regular cost of one Mountain Gorilla pass is $1500
What to do to get a discount on Gorilla trekking permit in Volcanoes National Park?
In  low season one gets 30% discount on that provided you hope to provide a proof of that you will visit 2 nationa park during your trip to Rwanda , thus at $1050. But there is a condition for availing this discount. To avail this low season discount one has to book 3 days 2 nights in any other national park in Rwanda like Nyungwe National Park or in Akagera National Park.
It is just not the booking; one has to produce a confirmed, paid booking receipt to be entitled for the low season discount. All the bookings of National Parks are done through a tour operator like  ACTIVE AFRICAN VACATIONS. One has to have patience while booking through tour operator(but its 100% guarantee that you will get your gorilla permit
What's the best time to book a gorilla trekking permit?
To ensure your preferred date of visit, please book at least 60/75 days before your visiting date else you may not get the booking. Especially during the peak season ,leave alone the covet constraints that has made un predictable travels in the leusre industry to be difficult but above all plan ahead of time if you have hopes of not being left out on your next gorilla trek.
What time should one show up at Kinigi park office in case one is to go gorilla trek?
Once a person has a confirmed Mountain Gorilla tourist permit, he should reach the park registration office latest by 7am. The park registration office is nearly 30 minutes' drive from Musanze town.and an hour and 30 minutes drive from Kigali.
When do I get to know my gorilla family to be trekked?
Then all the registered tourists for that particular day are distributed into 10/11 groups with maximum 7/8 members per group. Though there are nearly 450-500 mountain gorillas in the Rwandan side of Volcanos national Park but only 88 mountain gorillas are earmarked for tourist visit/access.
Rests are either not friendly to human beings or reserved for research purpose and others families are not open to public tracking , these are under gorilla doctors or Karisoke research for research purposes  Though the cost for Mountain Gorilla pass in Rwandan side is the costliest among the three countries; Rwanda, Uganda and DRC (Congo); but it is highly professionally managed and well organized.
One visitor is guaranteed to see the gorillas from any of the above destinations that have mountain gorillas side. Every Gorilla group is named like Susa group (second largest Gorilla group with 27 gorillas and 3 silver backs), Ntambara group (known for very aggressive among all the groups with 8 gorillas). So each group of tourists is assigned to one such Gorilla group and led by one guide. Each guide is in constant touch with the trekkers in the hills for each group.
How do we get to know where the mountains are on the day of trekking?
The trekkers keep intimating the respective guides on the movements of gorillas and accordingly the guide takes the tourist group to the assigned Gorilla group. Once the registration of tourist is done, assigned to one Gorilla group and a guide, the group drives down to the base of the Volcanos National park hill. And from there they trek into the forest on foot.
What to pack on the day of gorilla trek
Every tourist must have a full, Fully charged camera with enough SD card -sleeve rain gear, cap to protect from rain/sunrays, gloves to protect their hands and shoes which can withstand muddy as well as hilly slops. It is advisable to use a protective glass for eyes.
Is it worth to take a porter during his or her gorilla trek?
Though one can avail a porter for carrying their bag or helping them while moving inside the forest but one has to ultimately ensure he/she can move freely of his/her own taking 1 porter , you will have saved the lives of more than 10 people , behind every one porter, there's 10 members of the family, and in other words its one way of encouraging community support and sustainability of mountain gorillas.
What happens after seeing the gorillas?
Once one sees the Gorillas from such close quarter, one will forget all the pain taken to reach that far or spending so much money just for that moment. It is really worth spending so much time and money for the expedition of a life time experience. Visit, enjoy and cherish rest of your life in fact seeing gorillas Eyes to eye with this magnificent apes is compared to seeing water in the desert  its indeed a once in a life time experience
How much should one tip a guide or my porter?
There's no standard tipping policy as far as gorilla trekking is concerned , how ever we do strongly emphasise that you tip according how you feel ,its after service offer that is extended to this awesome sheared who makes sure everything is possible for your life experience of course memories stays for life. but the tipping ranges between $30+++-the sky is the limit