Luxury Uganda Safaris, Best Luxury Uganda Safari Lodges
Luxury Uganda safaris are a good idea to consider when planning to explore the sweet African continent. Luxury Safaris in Uganda are more affordable and offer a great wilderness experience, as the country is remarkably the leader in Gorilla trekking.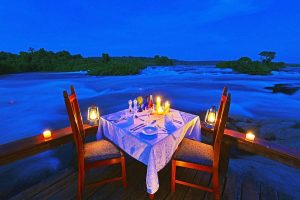 Create travel memories that will last by unleashing your Africa safari imagination with the best wilderness experience, with Luxury Uganda Safaris.
Is Uganda good for Luxury safaris?
Luxury Safaris in Uganda are one of the few destinations for those in search of the absolute pinnacle of primates. The astonishing beauty of Uganda outshines all other safari destinations in these two areas.
Uganda safaris however remain a superb destination for traditional safari by vehicle or by boat.
Wildlife viewing in the country's conservation areas and national parks is guaranteed on your Uganda Safaris, and Gorilla trekking is one of the major highlights and must see on your Luxury Uganda Safaris.
Why Travelers should visit Uganda?
On your Luxury Uganda Safari, spotting the Africa's "Big Five" is guaranteed; you can have a birding safari, enjoy the Cultural tours and a visit to the source of the Nile where you can also see White water rafting. Uganda is a home to over 20 primate species that can be found in country's National Parks.
The country is a home to abundant forms of wildlife, and famously known to harbor more than a half of the remaining endangered Mountain Gorillas, with more than 480 individual live in the country's Bwindi Impenetrable National Park and Mgahinga Gorilla National Park.