16 Days Rwanda Tanzania Zanzibar Safari: (Gorilla Trekking, Wildlife & Beach)
16 Days Rwanda Tanzania Zanzibar Safari involves Gorilla Trekking Rwanda, Wildlife tours in Tanzania & Beach holiday in Zanzibar.
16 Days Rwanda Tanzania Zanzibar Safari: For those who need to have a combined tour in Tanzania and Rwanda, this 16 day safari holiday is the best for you. It starts with Gorilla trek and Golden monkey tracking in Rwanda and after shift to Tanzania for beautiful moments in Serengeti, Ngorongoro Crater and Zanzibar Islands.
Itinerary 16 Days Rwanda Tanzania Zanzibar Safari
Day 1: Arrival – Kigali city tour
On arrival you will meet our driver at Kigali airport. Share greetings and after drive up to Kigali city to check in at your hotel for a night stay.
Day 2: Transfer to Volcanoes National Park
Early in the morning after your breakfast you will do a tour around to visit different tourist spots including the genocide sites, craft shops, local markets and more. Have lunch in the city and after transfer to Volcanoes National Park in Musanze district. You will reach in the evening and check in at your lodge in Kinigi.
Day 3: Gorilla trekking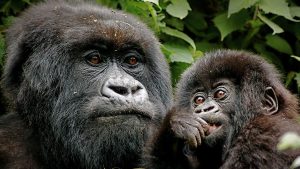 After your breakfast at the lodge the driver will drive you up to the park headquarters for a morning briefing. Don't forget your packed lunch.
Later shift from the headquarters to the starting point for your trekking expedition. Distance moved and time taken depends on the location of the gorilla family you are searching for.
Once identified, you stay in the presence of these animals for a period of one hour. See them feeding, playing and wandering around.
You are free to take a lot of photos and videos but cameras with flush light are not allowed. After the experience return to the lodge for relaxation and dinner.
Day 4: Golden monkey tracking – Ibywachu
Have morning breakfast. After transfer to the park headquarters for short briefing done before the Golden monkey excursion starts.
Golden monkeys are mostly found in the mountainous bamboo forested areas. While in the jungle you are exposed to other wildlife species.
In the evening you visit the ibywachu cultural village for cultural performances and highlight about the Batwa people.
Day 5: Dian Fossey Hike
After your morning breakfast transfer to the Park headquarters to meet with other adventurers for a remarkable hike up to the Dian Fossey grave yard.
Reaching there, you tour around and visit the nearby research Centre to see the conservation work done by Dian Fossey during her times. After return to the lodge for relaxation, dinner and overnight.
Day 6: Volcanoes – Drive back to Kigali
After four beautiful nights in Volcanoes you will drive back to Kigali. Check in at the hotel for dinner and an overnight in the city.
Day 7: Kigali – Fly to Serengeti (Seronera airstrip)
Early in the morning check out and get to the airport for your direct flight to Seronera airstrip in Serengeti National Park. This protected area is listed amongst the most visited places by tourists in East Africa. Most travelers go there to see the great wildebeest migration.
Day 8:  Game viewing in Serengeti
Have morning breakfast and after you will spend the all-day game driving for awe inspiring views of the Park's natural beauty including Wild animals, picturesque landscapes, sunset/rise plus the great migration of wildebeests.
Day 9: Hot air balloon ride – Evening drive
Next day you admire the beauty of the entire pack from the basket of a hot air balloon. This is one of the best experience not to miss in Serengeti National Park.
From the skies you see animals grazing, views of mountains and stretching grasslands. After you return to the lodge for relaxation and an evening game drive.
Day 10: Serengeti – Drive to Ngorongoro
Early in the morning you shift from Serengeti to Ngorongoro crater for more wildlife encounters. This place is home to thousands of wild animals and bird species. During some seasons herds of animals converge around for pasture and water.
Day 11: Full day in Ngorongoro
You will have a full day in Ngorongoro crater. It is more breathtaking for a wildlife lover to have a game drive in a place that is seasonally home to about 25000 wild animals including the African big fives and antelopes, unique bird species, beautiful scenery and more.
Day 12: Ngoro Ngoro – Drive to Arusha – Flight to Zanzibar
After the three nights in Ngorongoro crater you check out to start the drive to Arusha. This 180km journey requires 3 – 4 hours. From Arusha you take a flight to Zanzibar Island.
Day 13, 14 & 15: Relax & enjoy Zanzibar Islands
This is the time to get relieved from all the hustles of Serengeti, Ngorongoro crater and Volcanoes National Park
Visit nearby villages, relax at the beaches and engage into various watersport activities such as scuba diving, snorkeling, kayaking, windsurfing and game fishing.
Day 16: Zanzibar – Return flight
After great moments in Zanzibar you will board a flight back to your home country.
End of the 16 Days Rwanda Tanzania Zanzibar Safari