AndBeyond Ngorongoro Crater Lodge
AndBeyond Ngorongoro crater lodge is on the rim of the Ngorongoro crater perched high above chilly, whirling mists overlooking the game rich crater.
The 3 camps that evoke a bygone age are full of romanticism, with stilted, handcrafted mud and thatch suites that are furnished with charming antiques, opulent chandeliers, and exquisite African artifacts. As the sun sets, you may either partake in a wine tasting at the wine shop or observe and listen to the spellbinding chant of Maasai warriors while viewing the game-rich Crater. Each guest's needs are met by personal butlers, who bring tea in bed, light fireplaces, and run bubble baths and any other of your personal needs.
Rooms in AndBeyond Ngorongoro Crater Lodge
The stilted, handcrafted mud and thatch suites are filled with romantic touches, like graceful antiques, opulent chandeliers, and exquisite African artifacts. With floor-to-ceiling glass windows overlooking the spectacular Crater below, the bedroom, sitting area, and en suite bathroom all have these features. Each suite consists of the following;–
Personal bar
A coffee station
Fire place
En-suite bathroom
Hairdryer
Private balcony
General facilities
Signature shop
Tanzanite store
Spa and Massage
Winestore
Private Sundowner site
Internet Access
Fitness center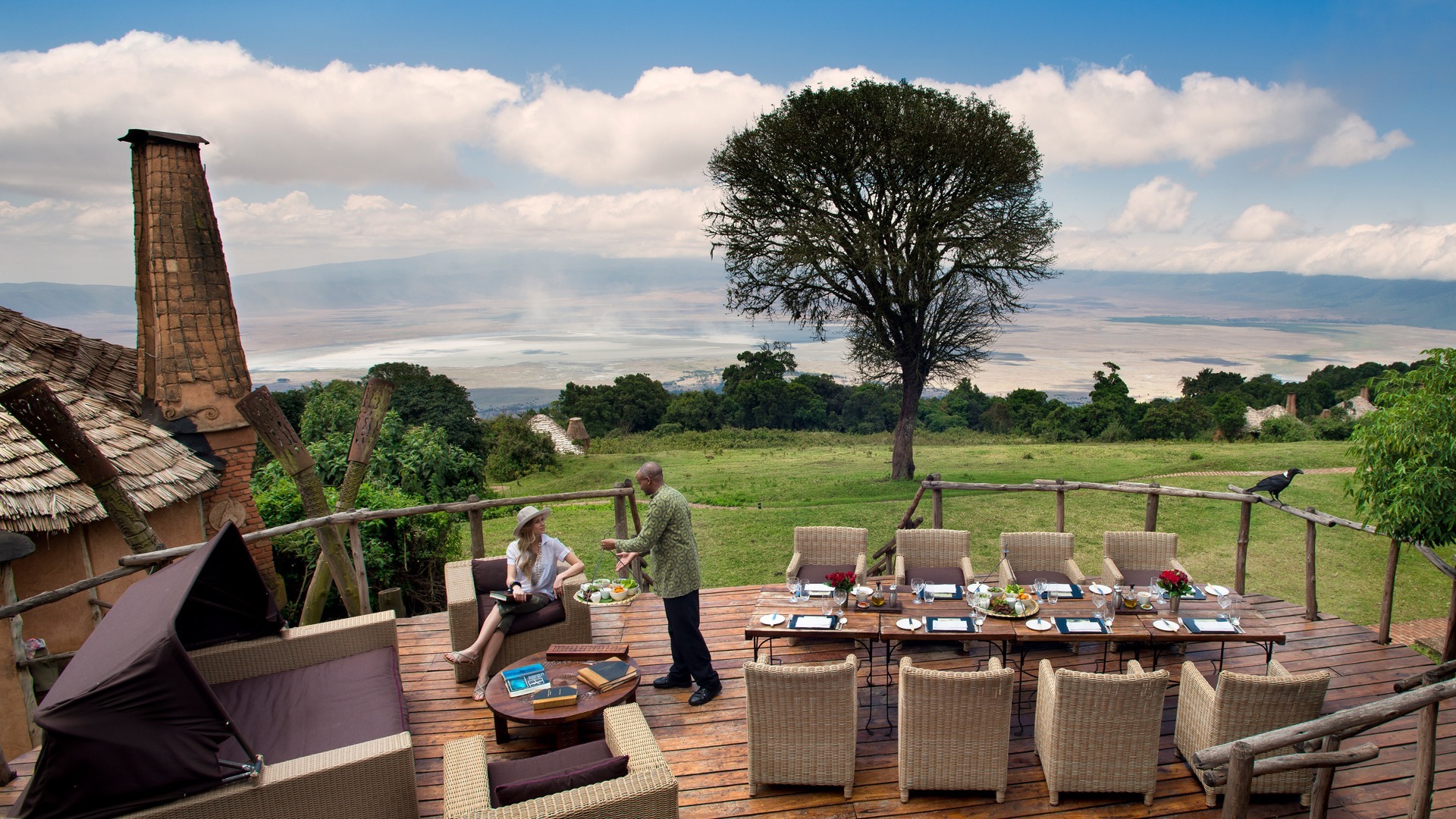 Activities in AndBeyond Ngorongoro Crater Lodge
Game drive; Enjoy the both day and night game drives that travel through the lush highland forest as they drop into the Ngorongoro Crater. Spectacular bird life can be seen amid the many tree varieties. Find a wide range of grazing herbivores and predators on the grassy crater bottom. You could encounter enormous flocks of pink flamingos near the small Lake Magadi depending on the time of year.
Crater floor Banquet;– Enjoy a meal that is presented in one of Africa's most unusual locations. Take in the magnificent abundance of wildlife before traveling to a secluded picnic area on the Crater bottom. The most mouthwatering of delicacies are spread out on tables covered in white tablecloths and equipped with glittering silver flatware.
A Crater Hike;– On foot, explore the million-year-old Crater and come upon an intriguing wildlife forest. Near the rim, hagenia, nuxia, and enormous St. John's wort trees grow in dense forests on lush slopes. Enjoy a delectable picnic lunch at the end of your journey in the Crater, a secluded area filled with quiet and serenity.